May 02, 2019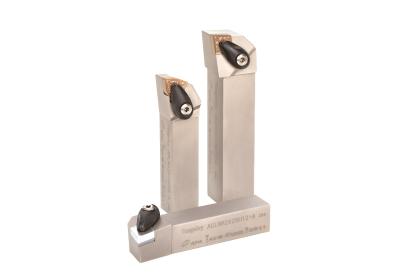 Tungaloy is expanding its Turning-A series of OD turning holders to include short length holders.
For manufacturing shops that are using small-sized machine tools, standard turning holders are often too long to fit the machine turrets. To meet such demands, Tungaloy expands the Turning-A series to enhance its holder length variations. The new turning holders are available in square shank size 2020 with a functional length of 100 mm (compared with a standard length of 125 mm) and 2525 in a length of 125 mm (normally 150 mm), both of which are widely used on multitask machines of various brands. The holders accommodate CNMG1204 and WNMG0804 inserts. The initial range of holders encompasses 8 items, enhancing Tungaloy's expansive range of general OD turning holders.
At a Glance:
Ready-to-use short turning holders for OD turning applications eliminating the need for tool length modification before use
Holder sizes available in functional lengths of 100 mm for 2020 and 125 mm for 2525 to accommodate CNMG1204 and WNMG0804 inserts
Related Glossary Terms
outer diameter ( OD)


outer diameter ( OD)

Dimension that defines the exterior diameter of a cylindrical or round part. See ID, inner diameter.

shank


shank

Main body of a tool; the portion of a drill or similar end-held tool that fits into a collet, chuck or similar mounting device.

turning


turning

Workpiece is held in a chuck, mounted on a face plate or secured between centers and rotated while a cutting tool, normally a single-point tool, is fed into it along its periphery or across its end or face. Takes the form of straight turning (cutting along the periphery of the workpiece); taper turning (creating a taper); step turning (turning different-size diameters on the same work); chamfering (beveling an edge or shoulder); facing (cutting on an end); turning threads (usually external but can be internal); roughing (high-volume metal removal); and finishing (final light cuts). Performed on lathes, turning centers, chucking machines, automatic screw machines and similar machines.