August 13, 2013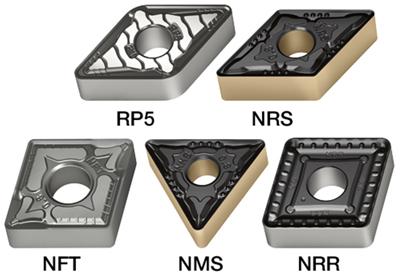 Walter USA LLC has announced a series of new insert geometries for turning that bring higher levels of productivity to a range of difficult applications. These include: the Walter NMS and NRS geometries for high temperature alloys such as Inconel 718 and Waspaloy, commonly used in the aerospace industry; NFT geometry for titanium alloys; and the NRR and RP5 to boost the productivity of difficult steel and iron roughing operations.
The NMS geometry is designed for semi-finishing and medium machining high temperature alloys, but can also be used on ISO M materials, such as type 304/316 austenitic stainless steels. NRS geometry is suitable for roughing high temperature alloys and for the machining of forged and cast surfaces. Thanks to their advanced coatings (either WSM10 or WSM20) and unique cutting edge geometry, they resist the formation of notches and cutting edge build-up, the main sign of wear when machining high temperature alloys. They also generate less heat, resulting in tool life increases of up to 150 percent.
Walter's new NFT geometry, designed for finishing titanium alloys, is highly resistant to the crater wear that is common in titanium machining, and it features a fully ground periphery for high accuracy. Typical applications include finishing aerospace engine components such as rings and fittings.
The NRR geometry is ideally suited for heavy roughing of forged materials, with high feed rates and cut depths of up to 0.700" (18mm). It easily handles variable material removal and "first pass" machining. Typical applications include the machining of generator shafts and marine engine crankshafts.
The RP5 geometry features a stable, positive 3°Chamfer for roughing with low power requirements. Its open groove design produces low cutting temperature and reduces wear in comparison to other geometries. It also has a wider chamfer in the range of the cut depth to prevent notching in the machining of forging and casting skins.