January 16, 2017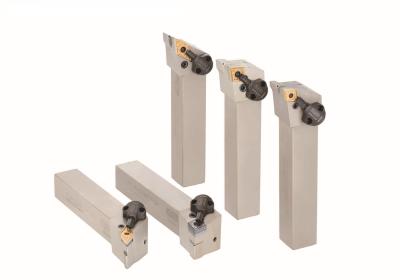 Tungaloy Corp. has expanded the TungTurn-Jet line, the turning tool system with high-pressure coolant capability. Until now, coolant was simply applied by flooding the cutting area, which can cause chips generated during machining to interfere with the coolant flow, preventing it from reaching the exact spot where needed. Tungaloy's TungTurn-Jet's high-pressure, double-jet coolant system delivers jets of coolant to the optimal position close to the cutting edge and increases productivity by forming short chips in machining difficult-to-cut materials like heat-resistant superalloys.
Tool life is also extended using the second coolant jet from the frontal hole to the cutting point to prevent flank wear on the insert.
Even when using normal coolant pressure and existing equipment, TungTurn-Jet improves tool life for stainless and alloy steels, as well as heat-resistant superalloys in aerospace, automotive and general engineering industries.
This expansion also adds new lines to the ISO-EcoTurn range to further expand its turning capability in a multitude of industries.
Additional Products from Tungaloy America Inc.