November 23, 2021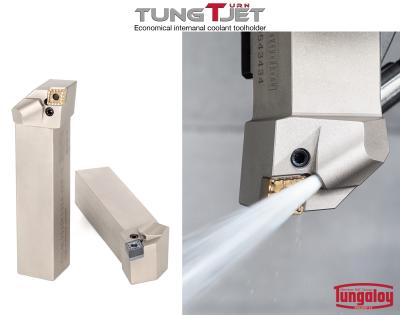 Tungaloy has expanded its TungTurn-Jet high-pressure through-coolant turning toolholders by adding toolholders with new streamlined coolant outlet design.
Tungaloy's precision through-coolant turning toolholder series, TungTurn-Jet is capable of using high-pressure coolant of over 7 MPa, or 1,015 Psi, to effectively control chips in long-chipping materials such as stainless steel and heat-resistant superalloys.
The new toolholders feature a coolant outlet built in the body. This streamlined design is more effective than conventional through-coolant toolholders that have an adjustable coolant nozzle or bulky nozzle assembly. With reduced number of parts, the new toolholders expand the TungTurn-Jet range with an economical option that can contribute to customers seeking further tool cost reductions, while maintaining effective chip control and maximum tool life.
Furthermore, when used with ISO-EcoTurn downsized insert, the new TungTurn-Jet toolholders improves productivity and economy when machining steel and exotic materials.
The TungTurn-Jet series
Developed for productive OD turning, grooving, thread turning, and ID turning (the ID turning holders are only available in PSC machine-side connection), the series enables high speed machining with effective chip evacuation.
TungTurn-Jet toolholder systems for Swiss machine applications are available as well. Small and miniature parts machining processes can dramatically be improved with TungTurn-Jet toolholders and its through-coolant method. Also, the series can eliminate the hassle of coolant hose connections when used in a Swiss machine that is equipped with the capability of supplying coolant directly into the toolholder from the gang slide. This plug-and-play coolant capability allows operators to simply mount the toolholders on the gang slide or tool post and use the integrated coolant nozzle for effective chip control and maximum tool life.
Additional Products from Tungaloy-NTK America, Inc.