February 27, 2020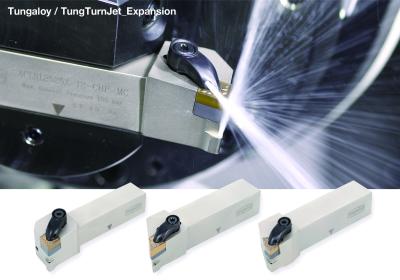 Tungaloy is expanding its TungTurn-Jet series of high-pressure coolant capable turning holders by adding a coolant-through feature and Double-Clamp technology for rigid insert holding and high productivity.
The TungTurn-Jet holder strategically directs the internal coolant jet exactly where it is needed, close to the cutting point on the insert rake face. This dramatically improves chip control during the machining of difficult-to-cut materials, which is not the case with conventional coolant delivery methods. In addition, the other coolant jet is fed from the bottom to minimize flank wear for increased insert life and productivity.
The new TungTurn-Jet holder's Double-Clamp technology allows the insert to be clamped and pulled towards the wall simultaneously with a single clamp screw operation for rigid insert holding. Now the clamp accommodates an internal coolant exit aperture built into it to deliver coolant jet to the optimal position on the cutting point for improved chip control. The internal coolant can be supplied either by using conventional external coolant subassembly or directly through applicable adapter of DirectTungJet-compatible machines.
At a glance:
The clamp provides secure insert retention and through-coolant supply
Hybrid through-coolant connection design allows the holder to be used on DirectTungJet-compatible machines or with conventional external coolant subassembly
Coolant jets from top and bottom dramatically improve chip control and insert life