October 13, 2016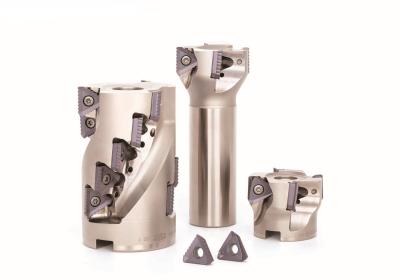 Tungaloy Corp. introduces TungTri-Shred, a new shoulder milling cutter for highly productive machining. With today's dramatic growth in the performance of machine tools, high-speed machining is often the first choice for manufacturers. In high-speed machining, vibration of the tool, the machine or the workpiece can cause chattering. If the depth or the width of cut is increased, the revolution or the feed will need to be reduced. If the revolution or the feed is increased, the depth or the width of cut must be reduced as well. These are factors that limit milling productivity.
TungTri-Shred offers a solution to this issue. The inserts are available in two types: an NMJ insert with serrated cutting edges for roughing and an MJ insert with straight cutting edges for finishing. The NMJ insert provides high performance in roughing operations by shredding chips and minimizing chattering, while the MJ insert, with its straight cutting edges, provides a smooth finish on the wall without step marks.
The TungTri-Shred cutter body features innovative chip shredding technology: Insert pockets are located on the flute so that its cutting edges are positioned in alignment without overlapping one another. This unique design helps the NMJ insert produce small chips with reduced cutting force. The MJ insert leaves an fine wall surface finish. TungTri-Shred's insert cutting edges all use the same geometry, eliminating the chance for improper mounting and simplifying the indexing process.
The tool diameters start at 2.00" (50 mm) in the standard and the long shank types; 2.00"- 4.00" (50-100 mm) for the bore type; and 2.50" and 3.00" (63 and 80 mm) in the extended-flute type.
Additional Products from Tungaloy America Inc.