May 02, 2019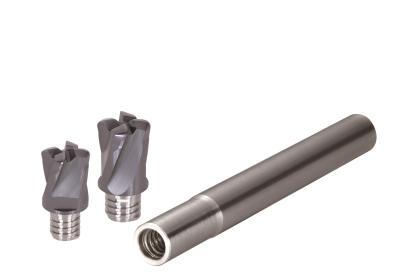 Tungaloy expands its TungMeister series of interchangeable milling head system, to include 4-flute cutter heads with high-feed capability.
The interchangeable TungMeister heads allow a quick, easy, and accurate tool change between various operations. Now the system incorporates a 4-flute option of the VFX-4 style cutting heads for elevated feed capability.
High-feed milling technique is common for many manufacturers who are seeking efficient metal removal. To meet the increasing market demands for higher milling efficiency, TungMeister now offers a 4-flute high feed head in addition to the existing 2-flute head. An increased flute count allows higher parameters, as well as prolonged tool life because the same working load is produced by having more cutting edges engaged in the cut. Soft cutting and strong geometry also improve tool life and stability thanks to its helical cutting edge and larger tool core.
At a Glance:
4-flute cutting head for high feed provides milling efficiency
Extended tool life
Helical cutting edge for light cutting
Total of 2 interchangeable heads are added
Related Glossary Terms
feed


feed

Rate of change of position of the tool as a whole, relative to the workpiece while cutting.

gang cutting ( milling)


gang cutting ( milling)

Machining with several cutters mounted on a single arbor, generally for simultaneous cutting.

milling


milling

Machining operation in which metal or other material is removed by applying power to a rotating cutter. In vertical milling, the cutting tool is mounted vertically on the spindle. In horizontal milling, the cutting tool is mounted horizontally, either directly on the spindle or on an arbor. Horizontal milling is further broken down into conventional milling, where the cutter rotates opposite the direction of feed, or "up" into the workpiece; and climb milling, where the cutter rotates in the direction of feed, or "down" into the workpiece. Milling operations include plane or surface milling, endmilling, facemilling, angle milling, form milling and profiling.
Additional Products from Tungaloy America Inc.