October 26, 2023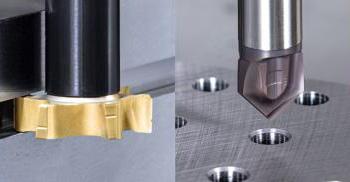 Tungaloy has added 69 additional exchangeable heads to its TungMeister exchangeable-head end milling tool system. The expansion covers GH730-grade thread milling head line and AH715-grade chamfering and rough end milling head lines.
TungMeister system offers a variety of solid carbide milling head options, combined with different shanks, providing milling solutions for end milling, high-feed face milling, slot milling, thread milling, shoulder milling, profile milling, and chamfer milling in all material groups. Furthermore, the exchangeable milling heads allow quick setup time as short as one tenth of the time for typical solid carbide end mills to be replaced, enabling the reductions of manufacturing costs and tooling inventories.
This expansion increases GH730 grade options of the VST and VTB slot milling heads and the VTR thread milling heads. A PVD grade consisting of extremely wear-resistant coating layer, combined with a tough carbide substrate dedicated to the coating, GH730 provides much better wear resistance than the previous generation GH130. These characteristics provide the grade with long, predictable tool life during threading and grooving operations.
Also increased are AH715 grade options of the VCP chamfering heads and the VEE-R rough milling heads. Wear resistant, AH715 grade provides long tool life and process security during high feed milling.