July 18, 2017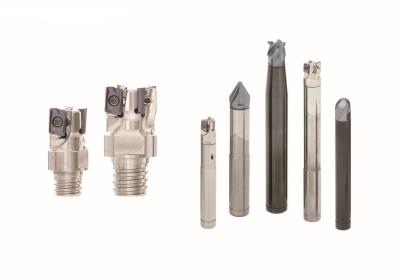 Tungaloy Corp. is continuously expanding its TungMeister changeable-head endmill system. The latest addition involves a new line of modular heads for the TungForce-Rec indexable miniature shoulder milling cutter series.
TungForce-Rec features an innovative V-shaped insert, designed to avoid insert movement under high centrifugal force, while delivering excellent machining reliability even when used at a high metal removal rate. The insert's remarkably large rake angle ensures light cutting action, while the obtuse angled flank face of the insert strengthens the cutting edge and avoids chipping. The cutter body design allows for far more compact and sturdy pockets than other cutters with flat bottom inserts. Therefore, a larger core diameter is retained in the given small tool diameter, making TungForce-Rec a perfect miniature shoulder mill with incomparable rigidity for shouldering, slotting, 3D profiling and various other applications.
TungForce-Rec inserts feature a maximum 6 mm (0.24") depth of cut and are available in three different grades for a wide range of materials. Tool diameters are available from ø8 mm (0.32") to ø16 mm (0.63").
Characterized by a rigid body structure and unique insert design, TungForce-Rec ensures reliable, high precision miniature shoulder milling in a wide range of materials, according to the company. Now the TungMeister changeable-head system has a lineup of TungForce-Rec modules. The indexable endmill system features secure coupling with minimal bending at the flange and tapered shank contacts. An optimal tool shank selection is possible from the standard shank material lineup of cemented carbide, steel and vibration-damping pure tungsten.
Additional Products from Tungaloy America Inc.