October 13, 2016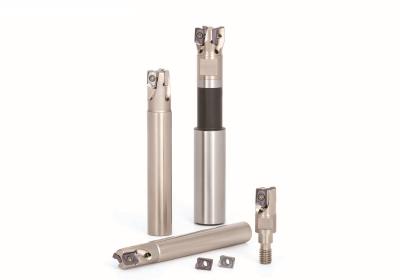 Tungaloy Corp. offers TungForce-Rec, the indexable miniature shoulder milling cutter. The TungForce-Rec insert has a unique V-shaped bottom to enhance the insert's resistance to centrifugal force, assuring reliability and high productivity during high-speed machining, according to the company. A large positive inclination angle also reduces cutting force, while the insert flank is uniquely designed to increase chipping resistance.
Miniature shoulder mills, in general, tend to have a thin body core due to limited insert positioning. TungForce-Rec, on the other hand, has a thick core due to the insert's V shape. Integrating the cutter body with the inserts completes the cutter's full rigidity, thus making it suitable for a range of applications. TungForce-Rec is also recommended for 3D profile milling in addition to shouldering and slotting.
The periphery ground insert is applicable for a depth of cut up to 0.23" (6 mm). The insert grades are available in three types according to materials to be worked with. The tool diameter ranges from 0.313" to 0.625" (and in metric sizes from 8 mm to 16 mm).
Additional Products from Tungaloy America Inc.