March 03, 2022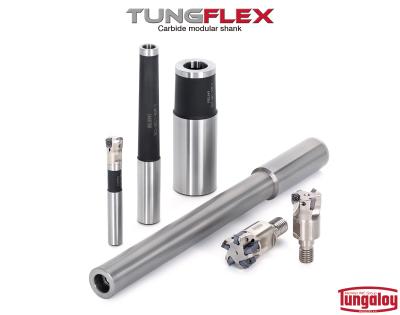 Tungaloy has added a total of 42 carbide shanks to its TungFlex modular milling tool system that opens up many flexible combinations of tool assemblies.
TungFlex modular milling tool system provides the ability to build an optimized and tailored assembly for a specific application using standard cutter heads, shanks, and holders. TungFlex now offers a carbide shank line in addition to the existing steel shank line.
Since carbide shanks provide lower deflection than steel shanks, they enable aggressive machining with increased cutting parameters. This amounts to reduced machining time and increased productivity. Also, the new shanks provide excellent vibration resistance, enabling extremely productive machining with long overhang setup. Furthermore, their coolant-through capability directs cutting fluid precisely to the cutting point, providing optimal milling performance in pocket and cavity machining, in which effective chip evacuation is critical.
Additional Products from Tungaloy America Inc.