September 13, 2013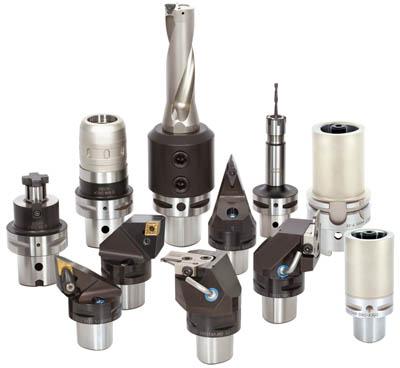 Tungaloy Corp. has launched the expansion of items in the TungCap tooling holder range. The additional tooling holders include basic adapters for BT and HSK shanks, and extension and reduction adapters which expand he benefits of the TungCap series to a wider application range.
The basic adapters include the BT-FC and BT-FC-T adapters with a BT shank for turning on multi-purpose machine tools and the HSK-A-C and HSK-A-C-T adapters for HSK shanks. The addition of the new adapters makes it suitable in a variety of applications as it can be applied as a modular system to cover the complete machining spectrum.
The additional offering includes extension adapters to extend the tool overhang length and reduction adapters to connect smaller size cutting heads to large size PSC standard taper. Furthermore, with the ability of the TungCap to accept extension or reduction adapters, the end user can achieve the optimal tool overhang length. This feature also avoids potential interference between the tool and the workpiece.
There are many benefits of this innovative system such as cutting tool rigidity, tool life, surface finishes and overall performance, according to the company.
Related Glossary Terms
shank


shank

Main body of a tool; the portion of a drill or similar end-held tool that fits into a collet, chuck or similar mounting device.

turning


turning

Workpiece is held in a chuck, mounted on a face plate or secured between centers and rotated while a cutting tool, normally a single-point tool, is fed into it along its periphery or across its end or face. Takes the form of straight turning (cutting along the periphery of the workpiece); taper turning (creating a taper); step turning (turning different-size diameters on the same work); chamfering (beveling an edge or shoulder); facing (cutting on an end); turning threads (usually external but can be internal); roughing (high-volume metal removal); and finishing (final light cuts). Performed on lathes, turning centers, chucking machines, automatic screw machines and similar machines.
Additional Products from Tungaloy America Inc.