March 30, 2023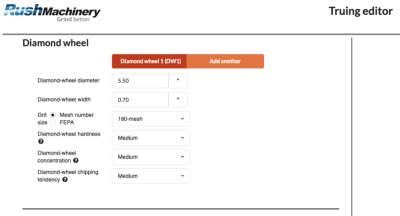 Rush Machinery introduces the Truing Parameters Calculator for truing and dressing Diamond and CBN Wheels. The Truing Parameters Calculator recommends the proper dressing wheels and wheel speeds to optimize the truing and dressing process. It is now available on our website here: https://rushmachinery.com/truing-parameters-calculator/.
A demo will be available at the Eastec trade show May 16–18, 2023 in West Springfield, MA at the Eastern States Exposition. Rush Machinery can be found in Booth #1121.
The Truing Parameters Calculator is the result of a 3-year collaboration between Rush Machinery, the International Grinding Institute, and Dr. Jeffrey Badger, the 'Grinding Doc'. Rush Machinery commissioned the project that was later presented at the 2008 CIRP General Assembly in Tokyo by Dražumerič, Badger, Klement, and Krajnik titled "Truing of Diamond Wheels–Geometry, Kinematics and Removal Mechanisms," published in the CIRP Annals, volume 57, pages 345-348.
Additional Products from Rush Machinery