June 02,2016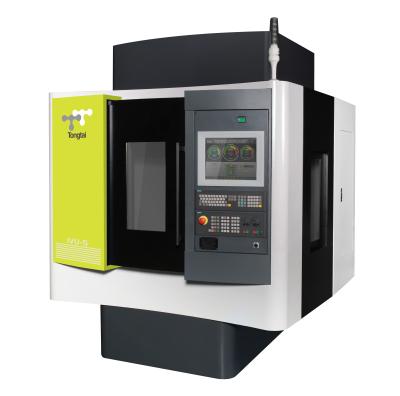 Tongtai's brand new iVU-5 from Absolute Machine Tools Inc. is a rotary-type ultrasonic assisted machining center that operates as a dual function vertical machining center combined with rotary ultrasonic assisted machining of advanced materials.
Typical applications for this system include microhole drilling and machining of glass, sapphire, silicon carbide, quartz, ceramic, hardened steel, high nickel alloys and nonferrous materials. Any material that is softer than the cutting tool can be ultrasonic-assisted. Rotary ultrasonic machining combines high-speed spindle rotation with high frequency vertical vibration of the cutting tool. The diamond tool impacts the material with high contact speed, reducing cutting force and producing ultrafine finishes while improving cutting efficiency three to five times faster than conventional machining.
The Tongtai iVU offers X, Y, Z-axes travels of 500mm (20") x 400mm (15.7") x 350mm (13.8"). It features a Meehanite cast iron frame and roller type linear slideways for rigidity and fast, precise movement. The 25mm (1") diameter ballscrews are class 3 with a double nut pre-loaded design allowing a standard rapid traverse rate of 1,890 inches per minute in the all axes with acceleration of 1.2G. The iVU-5 is equipped with a 30-tool arm type automatic tool changing (ATC) system. The fast, high-speed arm type ATC changes tools in only 0.8 seconds and 1.3 seconds chip-to-chip time. The 3-hp, 20,000-rpm, direct-drive spindle comes standard in dual contact Big Plus 30 taper (BBT-30). A spindle chiller is standard.
For ultrasonic operation, the Tongtai iVU-5 comes standard with automatic frequency search and lock via M-codes. The auto tuning range is from 15-45 kHz. Amplitude range is 1 to 10 microns. The machine has a range of standard features for successful ultrasonic machining and long machine life.
The 3-axis machine is equipped with Siemens 828D control with 10.4" TFT with ShopMill and Advanced Surface. The 5-axis version is equipped with Siemens 840D control with 17" IPC, the Sinumerik MDynamics Technology package for 5-axis milling, and ShopMill.