July 16, 2021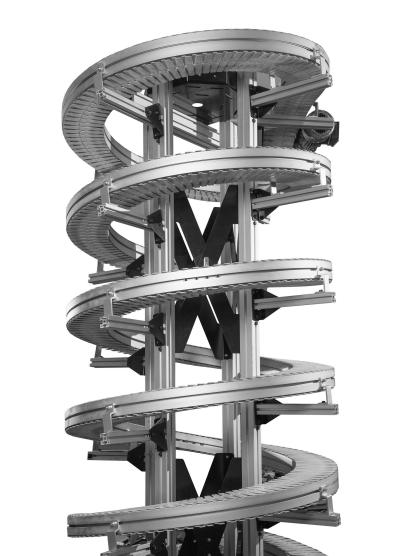 Dorner's FlexMove® Helix Conveyors have always been known for tight turns and a small footprint. Now, those turns have gotten even tighter.
The new tight turning radius option on FlexMove Helix Conveyors allows for compact turns with a diameter of spiral measuring 1,000 mm (39.4") at centerline. The advantage this new tight turning radius option brings to customers and their facilities is even greater flexibility in layout for applications such as accumulation, buffering, cooling product and more. The small footprint also solves tight production line space problems.
The tight turning radius option is available on D-Tools, Dorner's online conveyor configurator. D-Tools allows users to download 2D and 3D CAD models of the conveyor to construct simple or complex FlexMove Helix conveyor packages, as well as individual components such as gearmotors and mounting packages, support stands and accessories.
FlexMove Helix Conveyors feature a reinforced frame structure for added strength and durability. Helix Conveyors can be set at incline angles of up to 7° with a flat top chain and up to 10° with a friction top chain. Helix Conveyors offer a variety of options and accessories, including two end-transfer options: a roller transfer plate, or a powered transfer plate for smooth transfer of parts as small as 3" in diameter. Helix Conveyors can accommodate loads up to 136 kg (300 lbs.) and speeds up to 52 m/min (171 ft/min).
All Helix Conveyors are custom built-to-order, and delivered in about 30 days.
Related Glossary Terms
computer-aided design ( CAD)


computer-aided design ( CAD)

Product-design functions performed with the help of computers and special software.

flat ( screw flat)


flat ( screw flat)

Flat surface machined into the shank of a cutting tool for enhanced holding of the tool.

turning


turning

Workpiece is held in a chuck, mounted on a face plate or secured between centers and rotated while a cutting tool, normally a single-point tool, is fed into it along its periphery or across its end or face. Takes the form of straight turning (cutting along the periphery of the workpiece); taper turning (creating a taper); step turning (turning different-size diameters on the same work); chamfering (beveling an edge or shoulder); facing (cutting on an end); turning threads (usually external but can be internal); roughing (high-volume metal removal); and finishing (final light cuts). Performed on lathes, turning centers, chucking machines, automatic screw machines and similar machines.