March 29, 2018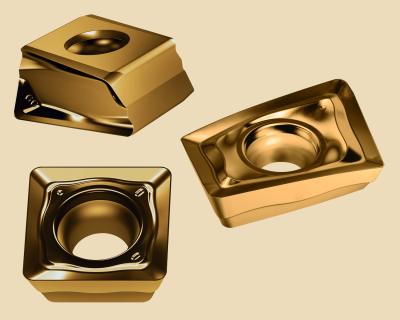 Walter has announced several extensions to its Tiger-tec Gold inserts, all of which possess the features that have made it so successful: A smooth rake face for excellent friction characteristics; optimal wear detection due to its gold-colored top layer; an especially tough cutting edge for maximum process reliability; and the latest coating technology for long tool life.
The extensions of the Tiger-tec Gold line include the new WKP35G milling grade, manufactured using the ultralow-pressure CVD method (ULP-CVD), and available in both positive and negative inserts. Sintered inserts for the Walter BLAXX shoulder milling cutters with four 90° cutting edges. M4000 extensions with a square shape, wavy design of the clearance face and small corner radii. Tough sintered inserts for the F4045 cutter with 14 cutting edges and variant corner radius. Also, a new wiper insert for the F4045. New inserts for the M3024 boasting 14 cutting edges, positive geometry, and secondary cutting edge or corner radius. And two new wiper inseGrts for the M2136 shoulder mill.
Like previous Tiger·tec Gold inserts, the extensions to the line employ a particularly tough carbide substrate covered by an extremely tough and resistant TiAIN layer with a high aluminum content and topped by a TiN top layer that helps protect the substrate against abrasion, hairline cracks, plastic deformation and oxidation. This gold-colored top layer enables outstanding wear detection and boasts impressive friction characteristics. Additionally, a thin TiN layer is located between the carbide substrate and the TiAIN layer, ensuring excellent binding of the layers.