September 07, 2017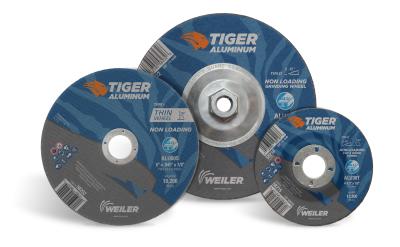 Weiler Abrasives Group introduced its new Tiger Aluminum cutting wheels, grinding wheels and combo wheels. Tiger Aluminum wheels have been designed with a nonloading formula that keeps them from gumming up, allowing operators to get more work done in less time—without compromising durability. Their extended wheel life reduces changeover and lowers the cost of use to improve productivity and the bottom line.
Tiger Aluminum wheels feature a blend of cutting grains that deliver a consistently high cut rate throughout the life of the products, and they are contaminant-free, making them a reliable, worry-free solution for aluminum applications. The wheels are ideal for aluminum cutting, grinding, stock removal, weld removal, weld blending, beveling and chamfering.
"Fabricators know aluminum can be challenging to work with because of its low melting temperature and tendency to load and stop cutting," said Rick Hopkins, senior product manager – metal fabrication, Weiler Abrasives Group. "We designed this new line of cutting and grinding wheels to help address those challenges by eliminating loading and maximizing cut rate, which in turn increases productivity when working with aluminum."
The new wheels complement Weiler's existing aluminum solutions, including Tiger Aluminum resin fiber discs, Tiger Ceramic Saber Tooth flap discs, nonwoven products and power brushes—providing users with a full array of options for cutting, grinding, cleaning and finishing aluminum.
Related Glossary Terms
chamfering


chamfering

Machining a bevel on a workpiece or tool; improves a tool's entrance into the cut.

grinding


grinding

Machining operation in which material is removed from the workpiece by a powered abrasive wheel, stone, belt, paste, sheet, compound, slurry, etc. Takes various forms: surface grinding (creates flat and/or squared surfaces); cylindrical grinding (for external cylindrical and tapered shapes, fillets, undercuts, etc.); centerless grinding; chamfering; thread and form grinding; tool and cutter grinding; offhand grinding; lapping and polishing (grinding with extremely fine grits to create ultrasmooth surfaces); honing; and disc grinding.