July 03, 2019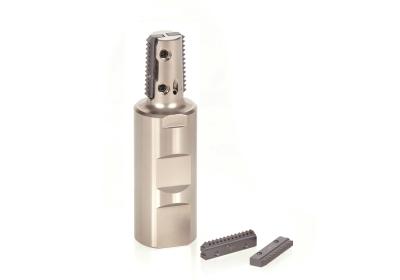 Tungaloy introduces an indexable thread milling solution for tapered pipe threads to its ThreadMilling series. The indexable thread milling system of ThreadMilling allows various types of threading insert(s) to be fitted on a single cutter body, making the operations extremely economical. With the new multipoint threading inserts and cutter bodies, thread milling for NPT and NPTF threads as well as BSPT thread are now possible on machining centers, using its spiral interpolation feature.
Thread milling techniques, in many respects, offer greater advantages over tapping with reduced cutting loads for higher reliability. Solid carbide taps pose higher risk of tool breakage, while HSS taps offer shorter tool life. In addition, insert screws are designed not to detach from the cutter body when completely loosened during insert setup so operators will have no concern dropping or losing the tiny screws in the machine.
At a Glance:
3 types of tapered threads are available: NPT (for 11.5 and 14 TPIs) and NPTF (for 14 TPI) of the U.S. standard, as well as BSPT (for 11 and 14 TPIs), which is common in Asian markets
Provides higher reliability and longer tool life over tapping method
Eliminates concerns for dropping or losing tiny insert screws during tool setup
2 cutter bodies and 5 inserts to be introduced
Additional Products from Tungaloy America Inc.