August 01, 2015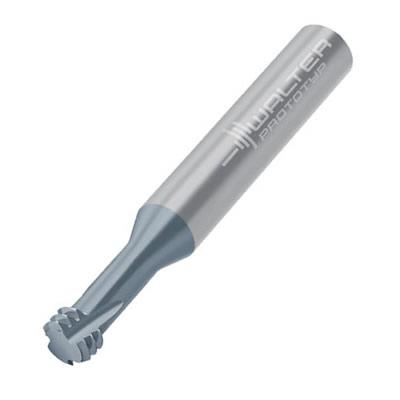 Walter has introduced its latest orbital thread mills, the Thread Mill Orbital Unified National Fine (UNF) 2xD and 3xD models. Their large shank diameters promote vibration free machining, even with a long clamping length, and their wear resistant, tough micrograin carbide construction with TiCN coating renders them suitable for use with ISO material types P, M, K, N, S and O.
Both the UNF 2xD and 3xD exhibit superior behavior over the lifetime of the tool, and their short overhang renders them particularly suitable for the machining of challenging materials such as ISO S alloys, materials of higher tensile strength and materials with spring back effect.
This combination of design features, along with the inherent advantages of thread milling itself, enable the Walter Orbital Thread Mill UNF 2xD and 3xD to deliver higher process reliability, particularly crucial when dealing with today's higher value workpieces, along with more true to gauge threads before manual corrections are necessary. In addition, their ability to run with a higher chip load permits a reduced number of passes. This shortens cycle time and allows longer machine time without manual adjustments, according to the company.