June 04, 2022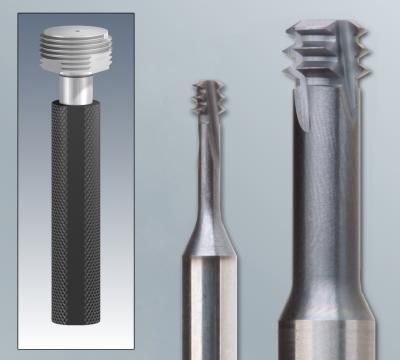 EMUGE-FRANKEN USA, a leading manufacturer of high-performance taps, thread mills, end mills, drills, and other rotary tools, has announced it has expanded its line of SELF-LOCK thread locking tools to include new EMUGE ZGF-S-Cut Thread Mills, in addition to EMUGE High Ramp Precision Thread Gages designed for gaging EMUGE SELF-LOCK thread profiles.
The new ZGF-S-Cut SELF-LOCK Thread Mills with helical flutes, multiple teeth and TIALN-T46 coating produce self-locking threads that are ideal in demanding industry applications such as aerospace where nickel alloys, titanium and stainless steel are the norm. A unique design enables three tooth pitches to simultaneously rough and finish-cut threads, dramatically increasing tool life and reducing cycle times.
"As the demand for self-locking threads for safety critical applications increases, our new ZGF-S-Cut SELF-LOCK thread milling products with unique geometry provide more threading options," said Marlon Blandon, Thread Milling Product Manager, EMUGE-FRANKEN USA. "Interest in our SELF-LOCK threading tools, which have been successfully applied for years, continues to rise."
The new EMUGE ZGF-S-Cut self-locking thread mills have a left-hand helix flute design with left-hand spindle rotation, which greatly enhances stability and cutting performance. The first of three cutting teeth acts as a rougher, while the second and third teeth finish the full thread profile, providing perfect threads, exceptional cycle time reductions and longer tool life. TIALN-T46 coating resists heat and wear and further extends tool life. "Our ZGF-S-Cut design provides tool life which can exceed 10 times that of conventional thread mills," said Blandon. The new thread mills are available in 16 sizes from 2-56 up to ½-20" for UNC or UNF threads, and tools starting at the ¼" size and larger feature axial coolant capability.
New EMUGE High Ramp Precision NO-GO Thread Plug Gages have also been added to the EMUGE SELF-LOCK line. The gages are used to check the lower thread ramp point for possible ramp angle errors and are used along with standard EMUGE SELF-LOCK Thread Plug Gages to verify all thread profile features.
The special profile of EMUGE SELF-LOCK threads allows an even distribution of stress over the entire thread length, eliminating slippage. Compared with standard threads, EMUGE SELF-LOCK internal threads show constant, maximum holding power under dynamic stress. Functions remain in good operation even with repeated loosening and re-tightening of the thread connection. The locking effect is caused by the ramp-shaped surface integrated into the thread profile. EMUGE SELF-LOCK technology results in increased threading tool life for larger thread hole diameters and provides larger tolerances for thread hole diameters.
Other EMUGE SELF-LOCK products include UNC and UNF Cut Taps, UNC and UNF Form Taps; Metric Cut Taps, Metric Form Taps and Metric Thread Mills, in addition to GO/ NO-GO Thread Gages. To see the full range of EMUGE SELF-LOCK threading tools, visit https://www.emuge.com/products/taps/self-lock-taps.