January 30, 2018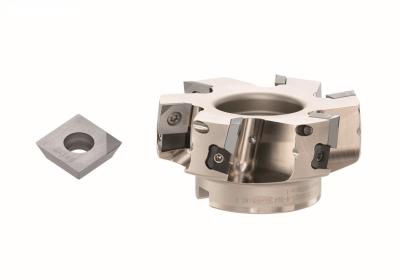 Tungaloy is expanding its TFE series, a long-running range of facemilling cutters for finishing applications, to incorporate bodies with insert adjustable pockets, achieving near zero axial runout for superior surface finishing results.
In addition to productivity, the TFE cutters are engineered for precision in facemilling. The TFE series carries a wide spectrum of coated and uncoated insert grades, geometries and cutting edge preparations for enhanced surface finishing potential and burr-free edges on the workpieces.
In response to heightening demands for precision finish, the TFE series now features adjustable pockets to eliminate axial runout of the inserts. The screw and wedge located right beneath each insert pocket are used to axially adjust the insert heights to a tolerance of ±0.065 mm (±0.0026"). This allows not only finer surface quality on the workpieces, but also to uniform the wear progression on all the inserts in the cutter, thus facilitating the insert life management.
The new adjustable cutters use existing TFE inserts which are available in a range of grades and geometries for a variety of materials and applications: coated carbide grade AH120 for steel and cast iron, AH140 for stainless steel, DS1100 with chipbreakers for nonferrous materials; cermet grade NS740 for steel; uncoated KS05F grade for nonferrous applications; and DX140, a PCD-tipped format for a nonferrous, high parameter solution.
The standard cutter bodies are available in the bore (shell mill) style only, with outer diameters of 80 mm (3.15"), 100 mm (4"), and 125 mm (5"). Specials are available upon request.
Related Glossary Terms
facemilling


facemilling

Form of milling that produces a flat surface generally at right angles to the rotating axis of a cutter having teeth or inserts both on its periphery and on its end face.

tolerance


tolerance

Minimum and maximum amount a workpiece dimension is allowed to vary from a set standard and still be acceptable.
Additional Products from Tungaloy America Inc.