August 31, 2019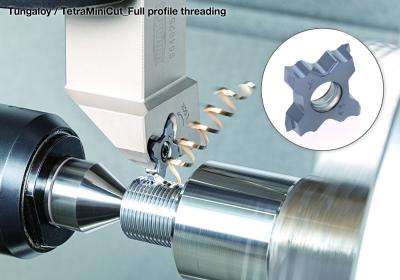 Tungaloy is expanding its TetraMini-Cut, an indexable thread turning tool series with four-edged insert, to include full profile threading inserts for machining external threads in ISO metric thread standards.
The TetraMini-Cut insert comes in a compact profile with four economical cutting edges. Its unique insert clamping ensures high repeatability, accuracy and tool life predictability. The new full profile threading insert can be mounted on the existing standard TetraMini-Cut toolholder for 60° V-profile or grooving inserts. Since the insert cuts a complete thread profile including the crest, no deburring of the thread profile is needed. In addition, the optimized tool design provides minimal interference when turning towards the tailstock of the lathe. Inserts are offered in two grades: SH725 allows free cutting of fine pitch threads in small diameter bores and AH725 for universal threading applications on Swiss-type machines, as well as general lathes. The enhanced lineup of TetraMini-Cut series provides customers with increased productivity.
At a Glance:
Full profile threading insert with four cost-effective cutting edges
Complete thread profiling is possible with no need for deburring of the crest
Available in SH725 and AH725 to address varieties of thread pitches
Applicable for thread pitches ranging from 0.5 mm to 1.5 mm of external ISO metric threads
Eliminates interference when turning towards the lathe tailstock.
Seven inserts will be added in this expansion
Additional Products from Tungaloy America Inc.