April 19, 2017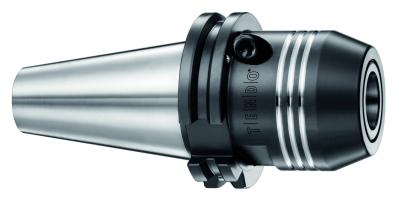 With the TENDO E compact, SCHUNK says it has started a new era in tool clamping with this universal toolholder that is suitable for applications such as milling, drilling, and reaming. SCHUNK now offers new extended lengths in CAT 40 (4") and CAT 50 (6"). Both are great for long-reach applications and in multiple-axis machines.
For the first time ever, hydraulic expansion toolholders can safely transfer torques of up to 520 Nm (384 ft-lbs) at a 20 mm clamping diameter and are perfectly suited for high-volume cutting.
With excellent vibration damping and precise run out accuracy of less than 0.003 mm (0.0001") at 2.5 x D, the TENDO E compact protects the machine spindle and the cutting tool from damage. The attractively-priced hydraulic expansion toolholder works well across the application range from rough milling to finish operations such as reaming and fine milling.
In roughing operations, tool cost reductions of up to 40 percent have been achieved with TENDO E compact. Tools can be quickly changed with an Allen key, making this hydraulic expansion toolholder an excellent alternative for operations where the toolholder quantities do not justify peripheral equipment purchases.
Common spindle connections are available, including interfaces HSK-A63, SK40, BT40, CAT40 and CAT50.
Related Glossary Terms
gang cutting ( milling)


gang cutting ( milling)

Machining with several cutters mounted on a single arbor, generally for simultaneous cutting.

milling


milling

Machining operation in which metal or other material is removed by applying power to a rotating cutter. In vertical milling, the cutting tool is mounted vertically on the spindle. In horizontal milling, the cutting tool is mounted horizontally, either directly on the spindle or on an arbor. Horizontal milling is further broken down into conventional milling, where the cutter rotates opposite the direction of feed, or "up" into the workpiece; and climb milling, where the cutter rotates in the direction of feed, or "down" into the workpiece. Milling operations include plane or surface milling, endmilling, facemilling, angle milling, form milling and profiling.

toolholder


toolholder

Secures a cutting tool during a machining operation. Basic types include block, cartridge, chuck, collet, fixed, modular, quick-change and rotating.