March 01, 2011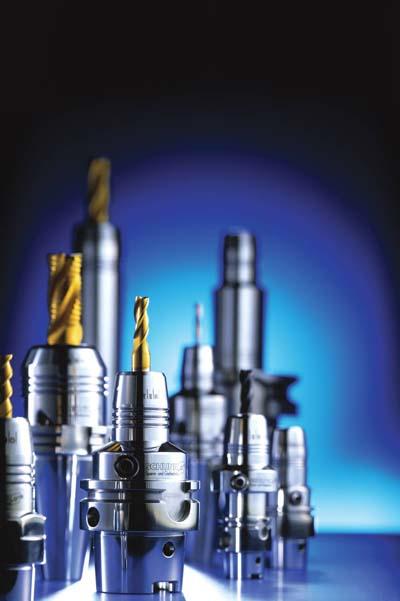 SCHUNK continues to improve its offering of hydraulic toolholders. The company redesigned its TENDO brand toolholders to be able to clamp different types of cutting tools with cylindrical shanks directly in the toolholder without using intermediate sleeves. This makes the toolholder even more universal during its application for various tasks.
Torque transmission capacity has also been increased by up to 15 percent. The already known and proven benefits of TENDO Hydraulic Toolholders remain unchanged. A steel sleeve surrounded by hydraulic fluid performs the clamping of the cutting tool. When initializing the clamping process, an internal piston forces the hydraulic fluid into a cavity surrounding the steel sleeve. The high pressure uniformly forces the sleeve around any cutting tool shank. Cutting tools with different shanks are held with great concentricity of less than 0.003mm run-out.
The enormous clamping pressure displaces oil or grease into the TENDO groove in the clamping bore. Clamping areas remain dry and high torque transmission is guaranteed at all spindle speeds. The hydraulic system also absorbs vibrations inherent in the cutting or grinding processes. The results are very high T.I.R. accuracy and repeatability of less than 3µm (0.00012".) Tool life is extended up to four times and results in greatly improved surface quality of machined parts.
TENDO Hydraulic Toolholders offer precise toolholding solutions for almost every manufacturing process. The toolholders are suitable for high-speed machining and fine milling, heavy-duty milling, wood machining, internal grinding, boring and chamfering, precision reaming, and precision tool grinding. With TENDO intermediate sleeves, different shank diameters can be clamped in the same toolholder for additional application versatility and tooling cost savings.
All TENDO Hydraulic Toolholders are completely closed systems that operate free of dirt, coolants, lubricants, and chips to ensure low maintenance and high operating lifetime. As an option, TENDO Hydraulic Toolholders are available with a radial length adjustment allowing micro-precise tool length adjustment to guarantee higher process performance.