July 17, 2018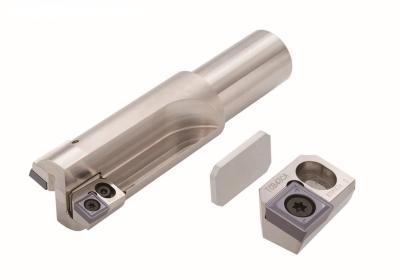 Tungaloy's counterboring tools, TCB series, is now available with new tool diameters, ranging from 26 mm to 59 mm or 1.02" to 2.32", and inserts with the –CG style chipbreaker geometry.
The TCB series was initially developed to countersink JIS-designated cap screws, thus offering limited tool diameters in the standard range. In today's diverse boring market, however, manufacturers are resorting to diameter-specific tailor-made boring tools or end mills to enlarge existing hole diameters, compromising productivity and lead times. Driven by these market needs, Tungaloy has introduced an additional tool diameter range to its TCB series, ranging from 26.0 mm to 59.0 mm or 1.02" to 2.32" along with the new –CG style chipbreaker, which yields excellent chip flow in various materials at a range of cutting depths.
The expanded TCB line incorporates a cartridge design for easy diameter adjustments. The diameter can be adjusted by placing multiple-sized shims between the tool body and cartridge, enabling a single tool body to machine various diameters. Fine diameter adjustments in increments of 0.1 mm or .004" are also possible with thinner shims sold separately.
The enhanced TCB series now offers a high efficient standard tooling solution, which is readily available for not only boring and hole enlargement applications, but also I.D. turning and boring on lathe machines.
At a glance:
Enhanced tool diameters, ranging from 26 mm to 59 mm or 1.02" to 2.32" now offers various counterboring solutions with standard tools – eliminates the hassle for ordering tailor-built tools and waiting long lead times.
Cartridge design allows a single tool to machine multiple diameters.
Enables high efficient machining.
Improved productivity and cost-efficiency thanks to the latest AH6030 grade and new –CG style chipbreaker for excellent chip flow in any type of materials at various cutting depths.
Additional Products from Tungaloy America Inc.