July 15, 2022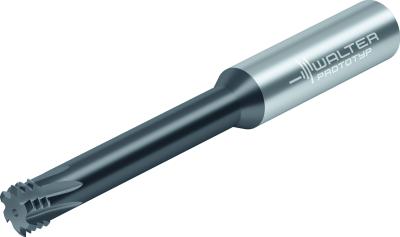 Walter has announced the Walter TC630 Supreme solid carbide orbital thread milling cutter for blind-hole and through-hole threads, with new DeVibe technology. Unstable conditions and long overhangs often lead to vibration, poor thread surfaces or even fractures during thread milling. The patent pending DeVibe anti-vibration technology, which includes an anti-vibration land on the flank face, the TC630 is supported during machining, suppressing vibration.
DeVibe technology ensures excellent operational smoothness and enables usable lengths up to 4×DN. It is ideal for small threads, long overhangs, unstable conditions or difficult materials. One reason for this is the geometry: Since only one row of cutting edges is engaged at a time, the tool deflection is low, and the thread remains cylindrical. The moderate number of teeth also enables a high feed per tooth, minimizing wear.
The milling cutter for blind-hole and through-hole threads can be used universally: In all ISO materials up to 48 HRC and for all dimensions from M1.6 to M20. In addition, it is suitable for tools for metric fine-pitch threads, UNC, UNF and STI UNF, the latter primarily for the aerospace sector.
With the TC630 Supreme, users can benefit from a range of advantages. A high level of process reliability for unstable machining operations, for example on lathes with driven tools or for long overhangs. Areas of application include medical engineering, precision engineering, the aerospace sector as well as electronics and general metalworking.
The Walter lineup of products consists of three categories to its tools. Supreme indicates the highest level of technology and performance available. Perform tools are products that provide an economical solution with focused importance on price and Advance which indicates product efficiently balanced between price and performance.