August 15, 2019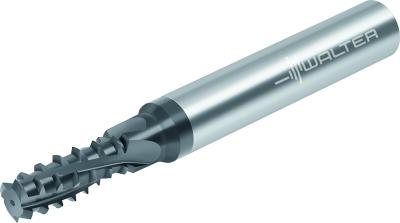 Walter has released the TC620 Supreme thread milling cutter, enabling threading that combines maximum productivity with superior process reliability. Its multiple-row concept with its lower cutting forces not only reduces machine time and wear, but also improves process reliability and handling, even with demanding materials.
Fast machining time and higher tool life delivers a lower cost per thread. It operates at a high level of process reliability and easy handling due to long machining times in between radius correction. Reliable chip evacuation, thanks to internal coolant and the simple handling of the TC620 Supreme further boosts process reliability.
With its TC620 Supreme universal thread milling cutter, Walter is now employing the functional principle of its T2711 indexable insert thread milling cutter with smaller diameters. Similarly, tool wear is drastically reduced thanks to minimal cutting forces and the resulting high feeds per tooth. Walter is launching the TC620 Supreme for thread depths of 2 and 2.5 × DN in the dimension range from M4 to M20, as well as UNC 8 to UNC ¾.
The Supreme designation indicates the company's highest level of technology and performance available. The Supreme lineup of products is one of three designations to Walter product technology—Preform, Advance, Supreme. The Perform tools are products that provide an economical solution with focused importance on price. The Advance tools are products which are efficiently balanced between price and performance.