November 20, 2017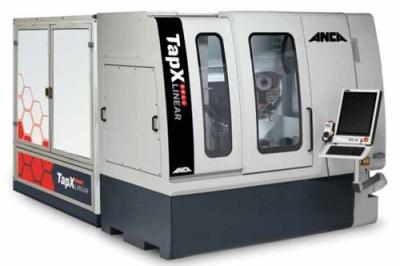 Taps are notoriously complex to manufacturer but that isn't deterring Thai manufacture SK Precision who are building their capabilities to be the first domestic supplier of taps to the Thailand domestic market.
The Thailand government understands that manufacturing will be a key driver of growth long term and has been encouraging companies to establish facilities in their territories through tax and other incentives. As a result, there is a flourishing automotive and aerospace sector that require suppliers.
SK Precision has around 50 people working two shifts servicing their traditional market of cutting carbide tools and PCD tools. Tibordee Srikul, president of SK Precision, said: "We have been operating for over 20 years and know the local Thai market intimately. We saw an opportunity in the tap grinding segment as until now companies could only source taps from overseas suppliers and that means longer lead times of up to three months and higher cost.
"Our customers want just-in-time products so they can reduce stock and inventory costs. Having a local supplier who can deliver taps in a short period of time helps them achieve a more efficient supply chain.
"Tap's are a difficult tool to manufacture. A complex application, the geometry and tolerances requirements take a lot of skill and knowledge to produce. At SK Precision we like a challenge and saw the combination of a gap in the market and a new application as something we could make a success.
"I didn't want to be restricted to producing only one type of tap and after extensive market research we decided to invest in the Tap X because of its flexibility. Our investment in capabilities, both in technology and experience means we can now produce special and standard taps locally. But that is only the beginning, in the future I want to produce spiral tap, point taps and hand taps and forming taps.
"For me and my team it is all about attitude. We are always looking to the future to keep up to date on what technology and market trends are emerging. I like a challenge and I knew that there was great opportunity I could take advantage of. My philosophy is to take on a challenging market and develop it. Attitude is everything and that is how I make sure I am successful - I believe I can do it!"
ANCA has delivered to market a single setup machine for complete tap manufacture. Continuing this tradition of industry firsts, ANCA offers the TapX Linear range of machines – a single setup tap grinding machine with LinX linear motor technology on X, Y and Z axis.
The rigid bisymmetrical column design on the solid polymer concrete base has been the foundation design of ANCA machines over the years. Now, in addition, ANCA's new LinX cylindrical linear motors and linear glass scales are fitted as standard on X, Y and Z axis for proven and unsurpassed long term reliability and accuracy.
The result is a machine that ensures customers will meet ever increasing market demands of precision tap grinding. TapX machines are purpose-built, with tooling, coolant delivery and automation specifically for production grinding of all types of taps, from M3 up to M50, whether in high speed steel or carbide.
Clever tooling design means change over from one tap type to another can be done in minutes, not hours. This delivers greater flexibility in your tap production and results in increased productivity and reduced costs.