May 01, 2014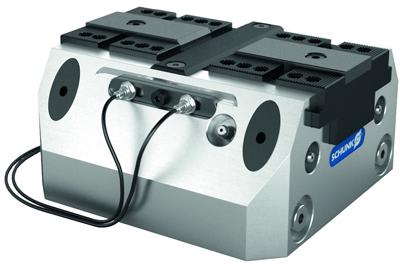 The TANDEM KSP plus clamping force block from SCHUNK is reportedly setting new standards in automated manufacturing. A standardized clamping force block provides for flexible monitoring along the whole jaw stroke. Whether using I.D. or O.D. clamping, the positions "opened" or "clamped" for any base jaw position can be adjusted. Monitoring is done via two inductive proximity switches, which are integrated in two special recesses in the base jaws. The system is sealed, and is therefore resistant against dirt. Since the signal can be directly processed in the machine control unit, the flexible queried clamping force blocks can be quickly and easily integrated into existing machines.
The compact clamping block has a high clamping force and exact precision. Its one-piece, rigid base body, the wedge hook kinematics and long ground jaw guidances provide for concentrated clamping forces of up to 55 kN. The excellent repeat accuracy of up to 0.01mm also ensures exact results. Therefore they are suitable for demanding milling operations at a high metal removal rate, high cycle times, and minimum tolerances. Due to the two integrated jaw interfaces, top jaws with tongue and groove, and jaws with a fine serration can be used. The clamping force blocks are also available with an optional jaw quick-change system. The optimized outside contour and the minimum gaps prevent the build-up of dust pockets, chips, or dust penetrating the clamping block. A special fitting screw ensures that the clamping block can be exchanged at the highest repeat accuracy.
Related Glossary Terms
gang cutting ( milling)


gang cutting ( milling)

Machining with several cutters mounted on a single arbor, generally for simultaneous cutting.

milling


milling

Machining operation in which metal or other material is removed by applying power to a rotating cutter. In vertical milling, the cutting tool is mounted vertically on the spindle. In horizontal milling, the cutting tool is mounted horizontally, either directly on the spindle or on an arbor. Horizontal milling is further broken down into conventional milling, where the cutter rotates opposite the direction of feed, or "up" into the workpiece; and climb milling, where the cutter rotates in the direction of feed, or "down" into the workpiece. Milling operations include plane or surface milling, endmilling, facemilling, angle milling, form milling and profiling.