December 27, 2018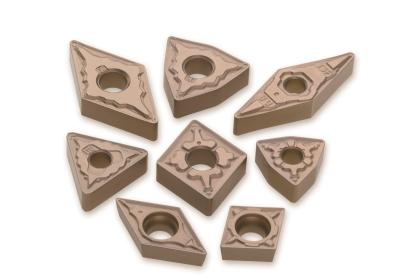 Tungaloy's new T9225 insert grade is joining the earlier successes of T9125 to complement the T9200 CVD grade series for steel turning. T9225 brings an exceptional combination of unparalleled wear resistance and top-notch edge toughness of all P25 grades available on the market to every steel turning application.
These properties of T9225 are attained by three primary technologies, including: extremely wear resistant Al2O3 coating in a thick and uniformly aligned layer, ultrahard ceramics for the outermost layer and PremiumTec – Tungaloy's exclusive post surface treatment technology.
These make T9225 a versatile steel turning grade effective in a wide range of applications, ensuring long tool life and stable performance for improved productivity.
In combination with proven T9215 grade, T9225 joins the T9200 series to cover various steel turning needs.
The range of T9225 includes the -TSF, -TM, and -TH chipbreakers: the first choice for steel turning in standard ISO inserts as well as successful ISO-EcoTurn inserts. A total of 349 inserts are introduced in T9225 to cover a wide range of applications.
At a Glance:
Thick and uniformed crystal growth Al2O3 layer for impressive wear resistance
Ultrahard ceramic layer with 1.5x hardness for improved wear resistance
PremiumTec post surface treatment technology for stable machining
Additional Products from Tungaloy America Inc.