June 01, 2015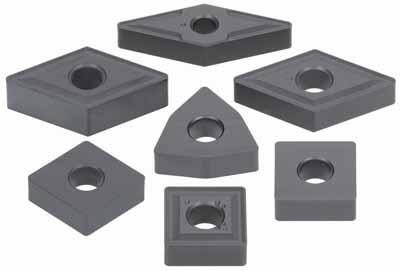 Tungaloy Corp. introduces T515, the new CVD-coated grade for cast iron turning.
T515, with specially designed substrate and coating structure, is a highly versatile CVD-coated grade most suitable for machining cast iron. The adhesion strength between the substrate and coating layer has been drastically improved in T515, which will strengthen chipping and peeling resistance, and offer stable machining. Excellent wear resistance in high-speed machining is another strength of this new grade.
The thickness of the alumina (Al2O3) layer has been increased by 1.7 times compared to our conventional products which provide remarkably long tool life. Also, Tungaloy's special surface technology, PremiumTec, plays an important role to improve surface finish, leading to strong resistance to chipping and edge-buildup.
To simplify the chipbreaker selection, 2 main types will be stocked: all-round type and flat-top type.
The new CVD-coated grade, T515, for cast iron turning delivers reliability and stability in the application area ranging from general to high-speed machining. Together with Tungaloy's existing T5100 series, T515 will complement all operations of cast iron turning and provide manufacturers in various industries with outstanding productivity.
Related Glossary Terms
chipbreaker


chipbreaker

Groove or other tool geometry that breaks chips into small fragments as they come off the workpiece. Designed to prevent chips from becoming so long that they are difficult to control, catch in turning parts and cause safety problems.

turning


turning

Workpiece is held in a chuck, mounted on a face plate or secured between centers and rotated while a cutting tool, normally a single-point tool, is fed into it along its periphery or across its end or face. Takes the form of straight turning (cutting along the periphery of the workpiece); taper turning (creating a taper); step turning (turning different-size diameters on the same work); chamfering (beveling an edge or shoulder); facing (cutting on an end); turning threads (usually external but can be internal); roughing (high-volume metal removal); and finishing (final light cuts). Performed on lathes, turning centers, chucking machines, automatic screw machines and similar machines.

wear resistance


wear resistance

Ability of the tool to withstand stresses that cause it to wear during cutting; an attribute linked to alloy composition, base material, thermal conditions, type of tooling and operation and other variables.