November 15, 2019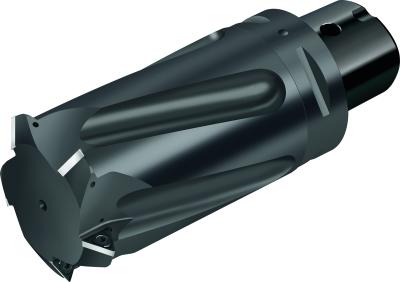 Walter has introduced the T2713, a universal indexable thread mill suitable for a variety of materials up to 55 HRC. This newest addition to the Walter thread milling system combines the advantages of thread milling with the efficiency of tapping. Due to the smooth cutting and lower cutting forces, machining times can be comparable to those of thread tapping and forming.
In addition to fast machining, users also benefit from the high process reliability of thread milling, ease of handling and few radius corrections, high operational smoothness, cylindrical threads, and excellent thread quality. The new, flexible T2713 handles various thread pitches and lengths and features a modular tool body with Walter Capto C8 interface for large threads and/or long overhangs.
In conjunction with its release of the T2713 Walter is also releasing its 22 mm IC, P26300 thread milling insert. This new insert is ideal for machining thread diameters starting at M125 with a thread pitch between 6 to 10 mm, or UN5 in. with a thread pitch of 4 tpi. The insert, with 55° flank angle, is designed for use in single row bodies and has D61 geometry for maximum process reliability.