June 01, 2010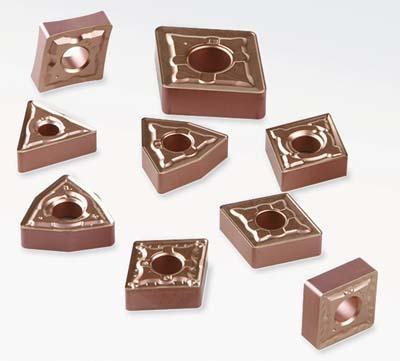 Ingersoll Cutting Tools says its new CVD-coated series T-TINOX grades bring new levels of productivity to stainless steel turning. The copper-colored T-TINOX coating resists material build-up on the cutting edge while Ingersoll's T-Turn+ technology provides a smooth, stable cutting edge. The new series consists of three new grades. TT9215 offers high wear and chipping resistance and is ideal for high-speed and continuous cutting in stainless. TT9225 is for general-purpose stainless steel applications, providing an optimal balance of wear- and fracture-resistance, according to the company. TT9235 provides both fracture resistance and toughness and is for interrupted cutting in stainless steel at low cutting speeds. The result is a grade that offers smooth chip flow, optimal performance and extended tool life.
Related Glossary Terms
turning


turning

Workpiece is held in a chuck, mounted on a face plate or secured between centers and rotated while a cutting tool, normally a single-point tool, is fed into it along its periphery or across its end or face. Takes the form of straight turning (cutting along the periphery of the workpiece); taper turning (creating a taper); step turning (turning different-size diameters on the same work); chamfering (beveling an edge or shoulder); facing (cutting on an end); turning threads (usually external but can be internal); roughing (high-volume metal removal); and finishing (final light cuts). Performed on lathes, turning centers, chucking machines, automatic screw machines and similar machines.
Additional Products from Ingersoll Cutting Tools