June 23,2016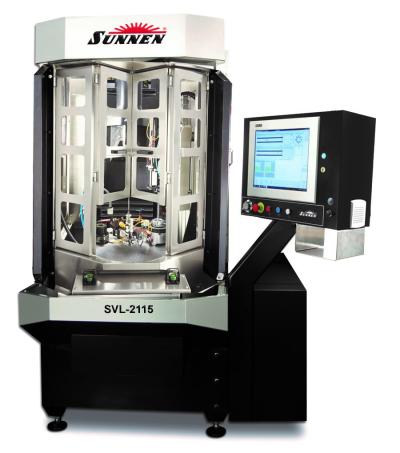 Sunnen's new SVL-2115 automated lapping machine brings increased productivity and part consistency to what is traditionally a manual process. Based on the same machine platform as the popular SV-2100 honing system, the SVL-2115 provides single-setup processing of hydraulic valves, sleeves, fuel system components and other parts that are prone to distortion when honed. The walkaway system uses an index table to automatically lap and air gage bores throughout the cycle. Gage readings are fed back to the control and the cycle is repeated until the parts are within spec.
"Automated lapping is more consistent than manual and there are fewer workers with the skills necessary for precision manual lapping. For very expensive parts an automatic lapping process reduces the possibility of ruined parts due to human error," said Phil Hanna, product manager, Sunnen. "Since lapping is usually the last process during the machining of a workpiece, if the lapping is not correct all the work to get the part produced up to that point is wasted."
The Sunnen lapping system handles workpiece diameters from 6.5 to 20 mm (0.26 to 0.70 in) and lengths up to 12 times the bore diameter, not to exceed 200 mm (7.87 in). Spindle speed range is 100-2000 rpm during lapping, but is capable of slow speeds for non-powered steps, such as lapping paste application or slow-rotation bore entry. Stroker speed is 0-350 sfm, with stroke length optimized to achieve a high degree of cylindricity.
"This system is a time-saver and it frees operators to run another machine, or handle other job floor duties," added Hanna. "Operators load the workpiece into the fixture and start the lapping cycle, the cycle ends when the part is in tolerance."
Sunnen has developed laps and gage probes to accompany this new system, and easy tooling and probe changeovers accommodate frequent changes during the course of a shift. A stack light allows operators to monitor cycle completions or faults from a distance, while a light curtain is standard. The lapping system is available with Sunnen's new SVF filtration system.
Related Glossary Terms
fixture


fixture

Device, often made in-house, that holds a specific workpiece. See jig; modular fixturing.

lapping


lapping

Finishing operation in which a loose, fine-grain abrasive in a liquid medium abrades material. Extremely accurate process that corrects minor shape imperfections, refines surface finishes and produces a close fit between mating surfaces.

tolerance


tolerance

Minimum and maximum amount a workpiece dimension is allowed to vary from a set standard and still be acceptable.