March 24, 2016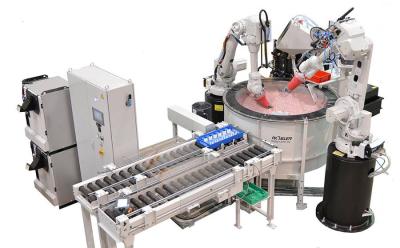 As surface finishing technology continues to evolve, so too does the demand for more efficient, stable and accurate finishing processes, especially when it comes to complex, high-value components. Rosler Metal Finishing has continually met this demand head-on by providing innovative surface finishing solutions, especially in the area of automated handling for precision components.
For decades mass finishing methods have been successfully used for deburring, edge radiusing, surface smoothing and polishing of mass-produced parts in batch or continuous feed systems. Nowadays, however, there is a growing demand for the defined finishing of single, high value components with complex or freeform surfaces that cannot touch each other during the process. For the reliable and efficient treatment of such components Rosler Metal Finishing offers various new and improved systems, which guarantee repeatable finishing results. They allow all-around surface treatment of workpieces or targeted finishing of specific surface areas in fully automatic processes that can be integrated into complete manufacturing lines.
With an array of technical features Rosler's innovative Surf Finisher machine opens up completely new possibilities for precise and targeted treatment of complex components, wet or dry. The heart of this finishing process consists of one, occasionally, two 6-axis robots and a rotating work bowl filled with specially selected grinding or polishing media. The work bowl comes in different sizes allowing the treatment of relatively large components or the simultaneous, entirely touch-free finishing of multiple workpieces.
The robot fulfills two functions. First, equipped with a specially designed gripper, it performs a material handling task by picking up the workpieces from and returning them to a transport belt, immersing them into the work bowl and conveying them to a cleaning/rinsing station. Second, the robot guides the work pieces through the processing media in preprogrammed movements, including defined treatment angles, different immersion depths and rotary motion. This flexibility allows the targeted finishing of specific surface areas on the workpieces.
During the complete process the work bowl containing the processing media is also rotating at a speed of up to 80 rpm. The actual speed is determined by the workpieces to be treated and the respective finishing task. The robotic movement combined with the work bowl rotation creates a "surfing" effect with high pressure between workpiece and media. This concurrent, intensive pressure creates a surface smoothing effect that produces fine finishes within relatively short cycle times. Even with complex workpiece geometries the surf finisher generates surface readings as low as Ra of 0.04µm (1.6 micro inches).
Related Glossary Terms
feed


feed

Rate of change of position of the tool as a whole, relative to the workpiece while cutting.

grinding


grinding

Machining operation in which material is removed from the workpiece by a powered abrasive wheel, stone, belt, paste, sheet, compound, slurry, etc. Takes various forms: surface grinding (creates flat and/or squared surfaces); cylindrical grinding (for external cylindrical and tapered shapes, fillets, undercuts, etc.); centerless grinding; chamfering; thread and form grinding; tool and cutter grinding; offhand grinding; lapping and polishing (grinding with extremely fine grits to create ultrasmooth surfaces); honing; and disc grinding.

polishing


polishing

Abrasive process that improves surface finish and blends contours. Abrasive particles attached to a flexible backing abrade the workpiece.