November 05, 2018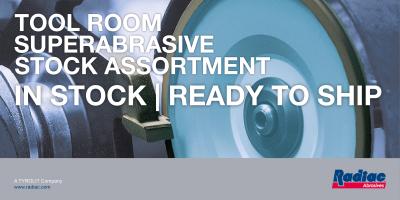 Radiac Abrasives Inc. announces a new superabrasive stocking program, including a Tool Room superabrasive assortment and VNX2 wheels, which are in stock and available to ship within 48 hours.

The Tool Room stocking assortment includes a wide array of resin-bonded wheels in the following shapes: 1A1, 1A1R, 4A2, 6A2C, 12A2, and 11V9. 1A1 and 11V9 are available in both diamond and CBN. Radiac has delivered technology and quality in this assortment for years.
In addition, Radiac has developed a stocking program for its most popular VNX2 wheels. With the VNX2 product line, Radiac provides solutions for grinding a variety of workpiece materials, which outperforms conventional wheels in stock-removal rate, lifetime and versatility.

Bart Carter, vice president of sales and marketing, said, "By offering an assortment of high-quality, ready-to-ship products, Radiac's superabrasive stocking program signifies Radiac's return to our roots of high service levels and on time delivery."
Related Glossary Terms
cubic boron nitride ( CBN)


cubic boron nitride ( CBN)

Crystal manufactured from boron nitride under high pressure and temperature. Used to cut hard-to-machine ferrous and nickel-base materials up to 70 HRC. Second hardest material after diamond. See superabrasive tools.

grinding


grinding

Machining operation in which material is removed from the workpiece by a powered abrasive wheel, stone, belt, paste, sheet, compound, slurry, etc. Takes various forms: surface grinding (creates flat and/or squared surfaces); cylindrical grinding (for external cylindrical and tapered shapes, fillets, undercuts, etc.); centerless grinding; chamfering; thread and form grinding; tool and cutter grinding; offhand grinding; lapping and polishing (grinding with extremely fine grits to create ultrasmooth surfaces); honing; and disc grinding.