August 30, 2018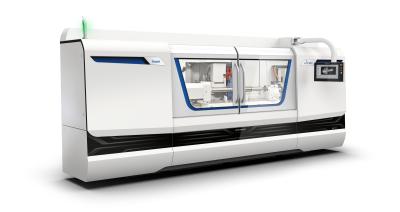 The new STUDER favorit 1600 universal cylindrical grinder offers a distance between centers of 1,600 mm. The new STUDER favorit 1600 grinds both single-part and batch production, combining cost-effective price with high productivity. With a center distance of 63" and a 6.89" center height, the universal machine handles long workpieces weighing up to 330 lbs.
The STUDER favorit incorporates a full enclosure with an optimal view of the grinding process. A solid Granitan base anchors the machine for maximum precision, performance and stability. The machine's wheelhead, which can be positioned in 3° increments, houses a belt-driven external and internal grinding spindles.
STUDER's grinding software with StuderPictogramming enables even less-experienced users to program grinding and dressing cycles quickly and efficiently. Optional StuderGRIND software handles special applications such as profiling the grinding wheel for complex workpiece shapes.
Process-oriented development, production, assembly and testing of STUDER products comply with the strict guidelines of VDA 6.4 and ISO 9001.