August 15, 2016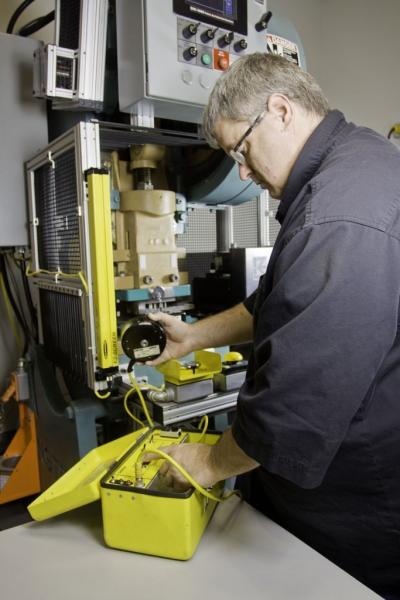 Underscoring its total commitment to worker safety, Rockford Systems LLC announced that a comprehensive stop-time measurement (STM) service conducted by its trained technicians is available to customers using metal-fabricating, metalcutting and turning machines. STM will be a standard service offered by Rockford Systems alongside machine risk assessment, onsite machine safety surveys and equipment compliance proposals.
"Periodic safety distance validation, accomplished through stop-time measurements, ensures that our customers' machines are compliant with OSHA and ANSI standards and, most importantly, are providing the protection their employees on the shop floor deserve," said Joe Nitiss, CEO of Rockford Systems. "By providing these services, we've completely removed the guesswork out of installing safety devices on mechanical and hydraulic presses, press brakes and other types of machines."
Rockford uses STM to determine the stopping ability of customers' industrial machinery. Once captured, the stop-time data is applied to formulas created by either OSHA or ANSI to calculate the minimum safety distance required to install safety devices. Rockford offers this service for newly installed safety devices as well as for the periodic validation of existing safety devices. Stop-time measurements are not only required for compliance with federal and state labor laws, but also may be necessary to abate deficiencies discovered during insurance company loss-control and corporate safety inspections.
Lack of machine guarding or improperly installed safeguarding equipment was one of the top 10 most cited OSHA violations in 2015, resulting in millions of dollars in fines levied against businesses. Injuries, as a result of improperly safeguarded machines, also lead to higher insurance costs, lawsuits and hospital expenses. Although safety equipment and proper machine controls are required by OSHA, many manufacturers sell machinery without either, leaving the business with the responsibility of safeguarding the machine.
Related Glossary Terms
metalcutting ( material cutting)


metalcutting ( material cutting)

Any machining process used to part metal or other material or give a workpiece a new configuration. Conventionally applies to machining operations in which a cutting tool mechanically removes material in the form of chips; applies to any process in which metal or material is removed to create new shapes. See metalforming.

turning


turning

Workpiece is held in a chuck, mounted on a face plate or secured between centers and rotated while a cutting tool, normally a single-point tool, is fed into it along its periphery or across its end or face. Takes the form of straight turning (cutting along the periphery of the workpiece); taper turning (creating a taper); step turning (turning different-size diameters on the same work); chamfering (beveling an edge or shoulder); facing (cutting on an end); turning threads (usually external but can be internal); roughing (high-volume metal removal); and finishing (final light cuts). Performed on lathes, turning centers, chucking machines, automatic screw machines and similar machines.