November 01,2010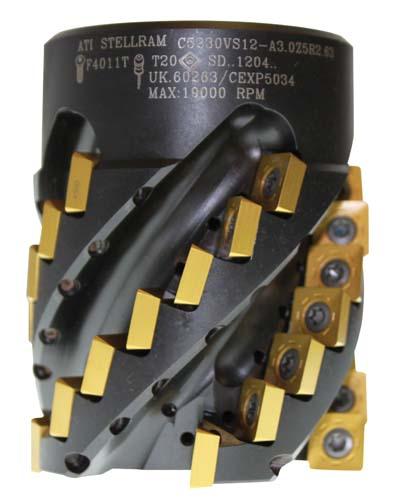 ATI Stellram introduces a new chevron-style milling cutter, the Stellram 5230VS12, designed specifically for machining titanium and other difficult to machine materials, such as nickel-based alloys ands cobalt-based alloys. In comparison studies, the Stellram 5230VS12 cutter achieved metal removal rates up to two times greater than comparable cutters on the market. This is vital in aerospace applications where part design often calls for up to 80 percent metal removal.
The 5230VS12 chevron cutter positions multiple inserts along the cutting edge of each helical flute. This advanced design of the insert placement provides smooth, progressive penetration and cutting action for extended tool life, lower power consumption and up to a 30 percent improvement in surface finish. Cutters range from 2.5 inches to 4.0 inches in diameter, with four to six flutes. Depending on flute length, from 6 to 14 inserts can be positioned along each flute.
Individual coolant jets to each insert provide constant chip evacuation and temperature stability in the cutting zone.
Two insert grades are available for the Stellram 5230VS12: Grade X500 is a member of ATI Stellram's high performance premium X-Grade Technology family of carbide inserts designed for the toughest applications in Nickel-based alloys, Cobalt-based alloys, Titanium and Titanium-based alloys. Grade SP6519 offers the combination of a tough substrate with the latest generation of TiAlN super nano coating. This versatile grade is equally suited for both High Temperature Alloys and Stainless Steels.
The Stellram 5230VS12 cutter represents a combination of advanced tool design and high technology insert grades, resulting in a tool capable of substantially increased productivity and surface finish quality.