April 02,2018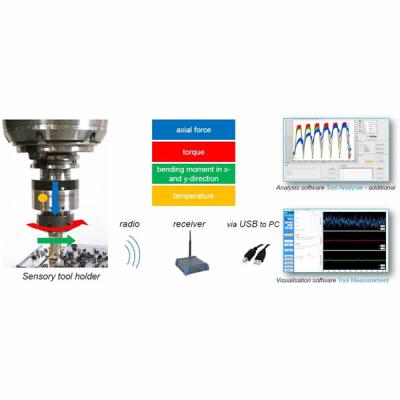 The Spike sensory toolholder is a wireless force sensor used for tool monitoring. During the machining process (e.g drilling or milling), it can measure the generated force and torque directly at the toolholder. The occuring data will be transmitted wirelessly to the receiver and the tool measurement software.
Data can be saved and compared later with the tool analyser software. The transmitted data offer the user the possibilities to solve problems faster, to increase tool life time and productivity. It enables end users to do process diagnosis and to optimize cutting and milling processes.
The Spike sensory toolholder can be mounted on nearly each toolholder. Even if the holder you need does not corresponded with the diameters above we may be able to construct it. In this case our engineer will build up the holder you need with a Spike system on the computer to ascertain if the construction is possible.
Once the user received the Spike it takes only a few minutes to replace a standard toolholder with a Spike sensory toolholder. That is caused by the wireless "plug and play" pricipal the device works. There is no additional effort for the machining engineer.
The complete Spike system packs up conveniently in its mobile case allowing for it to be easily moved from machine to machine.
Related Glossary Terms
gang cutting ( milling)


gang cutting ( milling)

Machining with several cutters mounted on a single arbor, generally for simultaneous cutting.

milling


milling

Machining operation in which metal or other material is removed by applying power to a rotating cutter. In vertical milling, the cutting tool is mounted vertically on the spindle. In horizontal milling, the cutting tool is mounted horizontally, either directly on the spindle or on an arbor. Horizontal milling is further broken down into conventional milling, where the cutter rotates opposite the direction of feed, or "up" into the workpiece; and climb milling, where the cutter rotates in the direction of feed, or "down" into the workpiece. Milling operations include plane or surface milling, endmilling, facemilling, angle milling, form milling and profiling.

toolholder


toolholder

Secures a cutting tool during a machining operation. Basic types include block, cartridge, chuck, collet, fixed, modular, quick-change and rotating.