August 03, 2018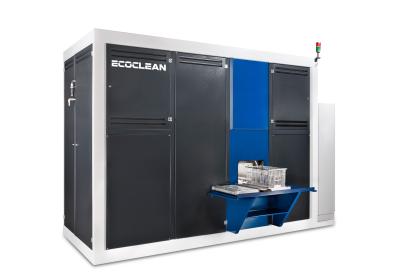 When it comes to obtaining oil and grease-free surfaces in a stable process, a solvent-based part cleaning method will commonly provide benefits at the process technology, economic and ecological levels. Given the polar nature of both the contaminant and the cleaning medium, cleaning will be achieved quickly and reliably. With their extensive range of solvent-based cleaning systems, Ecoclean can offer a suitable solution to whatever challenge.
The task of industrial part cleaning is to achieve the cleanliness required for high-quality downstream processes – e.g., coating, adhesive bonding, welding, curing – in a reliable, but also cost-efficient and resource-saving manner. The success of this operation is critically dependent on the use of a suitably adapted approach in terms of chemicals, equipment and process technology.
Contamination, materials and part geometry are critical
For selecting the cleaning fluid, the chemical principle "like dissolves like" may be taken as a guide. Aqueous detergents are typically employed for water-based (polar) contaminants, such as aqueous coolant and lubricant emulsions, salts, abrasion residue and other solid matter. To make sure that the medium will not attack the product surface, it is recommended to test the material compatibility and achievable results through cleaning trials beforehand. For mineral oil-based (non-polar) contaminants, such as machining oils, greases, waxes and resins, a solvent (chlorinated hydrocarbon, non-halogenated hydrocarbon or modified alcohol) will normally be the right choice. Chips and particles present on the product will lose their adhesion to the surface once the oil is removed and are then eliminated via an operation such as injection flood washing and ultrasound.
Depending on the contamination to be removed, the optimum solution will be a non-halogenated hydrocarbon, a chlorinated hydrocarbon, or a modified alcohol. The latter media have lipophilic and hydrophilic properties enabling them to remove both non-polar and, to a certain extent, polar contaminants. Solvents exhibit a high degree of material compatibility. No oxidation, discoloration, dulling or other impairment of the part surface is caused by the cleaning treatment. Another advantage of solvents is their ability to dry off quickly and completely, even in difficult product areas such as blind holes and undercuts.
Forward-looking solutions adapted to the task
For solvent-based cleaning, Ecoclean's product portfolio comprises fully enclosed machines carrying the fluid in a closed circuit. All solvent-based cleaning systems come equipped with an integrated distillation system and filtration systems for continuous automatic reconditioning of the solvent. As a result, operator exposure to the solvent is virtually eliminated and an unchanging cleaning quality and long solvent life is ensured.
The EcoCcore, working under a full vacuum, is designed for efficient cleaning of large quantities of parts to exacting cleanliness standards. It can be operated with non-halogenated hydrocarbons or modified alcohols (polar solvents) and it is easy to change from one solvent to another. This ensures its future viability even if the part range or specifications should change. Moreover, this solvent cleaning system shines with an extensive standard equipment level that includes two flood tanks, heat recovery, full-flow and bypass filtration, plus a number of detailed features minimizing idle times. The innovative preliminary steam degreasing function, which delivers the oil-laden solvent straight into the distillation circuit (instead of into the flood tank, as is commonly the case), and the ability to use ultrasound and filtration at the same time, help to reduce per-unit cleaning costs while also enhancing cleaning quality. Contaminant particles are thus discharged while the cleaning process is still ongoing and will not settle at the bottom of the work chamber pending filtration.
The EcoCcompact, with two flood tanks as standard and a space-saving modular configuration, is suitable for cleaning and preservation processes using polar solvents or non-halogenated hydrocarbons. Operating under a full vacuum, this unit can be ordered with diverse options supporting a broad range of applications – from high-speed degreasing through intermediate cleaning to specification-compliant final cleaning. To assist with such challenges, a third flood tank can be retrofitted. The machine's design focus lies on a targeted reduction in per-unit costs combined with maximum cleaning efficiency.
Heat treating contractors, metalforming shops and companies from the automotive and aircraft industries in particular require cost-efficient part cleaning and degreasing equipment capable of handling high capacities. The solvent-based large-chamber cleaning system EcoCduty was developed to address this demand. This machine is designed for loads measuring up to 1250 x 840 x 970 mm and weighing up to 1 tonne. It uses hydrocarbons or polar solvents and operates under full vacuum. Its modular design provides adaptability to individual user needs. Configured as a vapor-degreaser in its standard version, the system is additionally available with one or two stainless steel flood tanks – e.g., for a process comprising vapor degreasing and injection flood washing or vapor degreasing, injection flood washing plus a preserving step. Vacuum drying is standard on all three versions. Chlorinated metalworking fluids can be effectively removed by means of appropriately stabilized solvents following oil compatibility testing. Moreover, the unit is perfectly suitable for cleaning off sulphur-containing oils.
A compact solution taking up minimum space, the Minio 85C provides reliable and economical degreasing and cleaning with non-halogenated hydrocarbon media, either between or downstream of production processes. Both small businesses turning out low production volumes and large-scale operations using distributed cleaning stations will profit from its mature process technology involving the steps of immersion, steam degreasing and vacuum drying.
The ideal equipment and process technology, as well as process parameters, can be effectively and reliably determined through cleaning trials with real contaminated parts in Ecoclean's Technology Centers.