September 13, 2013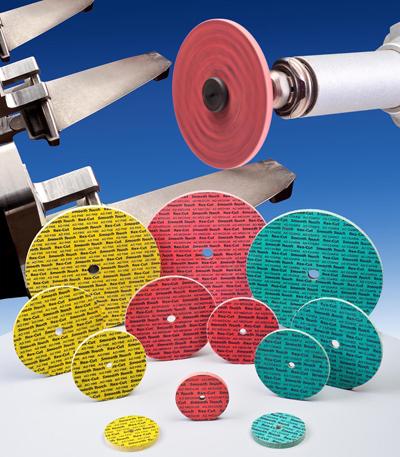 A line of Type 1 cotton fiber abrasive wheels that outperform non-woven nylon wheels in many robotics deburring cell applications is available from Rex-Cut Abrasives.
Rex-Cut Smooth Touch Type 1 Deburring Wheels are made from cotton fiber, impregnated with abrasives and a proprietary bond, to create a dense yet flexible wheel that constantly reveals fresh abrasives while deburring. Ideally suited for edge finishing in robotic deburring cells, they are comparable to 6 to 9 density unitized wheels, maintain their density while being conformable, and can be dressed for a wide variety of applications.
Capable of lasting up to 10X longer than unitized wheels, depending upon the application, Rex-Cut Smooth Touch Type 1 Deburring Wheels are available in 1" to 6" dia. sizes from 1⁄16" to ¼" thick in coarse, medium, and fine grits. Also well suited for manual applications, they provide the same cushioned feel as nonwoven nylon and will not change a part's geometry.
Related Glossary Terms
abrasive


abrasive

Substance used for grinding, honing, lapping, superfinishing and polishing. Examples include garnet, emery, corundum, silicon carbide, cubic boron nitride and diamond in various grit sizes.

robotics


robotics

Discipline involving self-actuating and self-operating devices. Robots frequently imitate human capabilities, including the ability to manipulate physical objects while evaluating and reacting appropriately to various stimuli. See industrial robot; robot.