March 01, 2014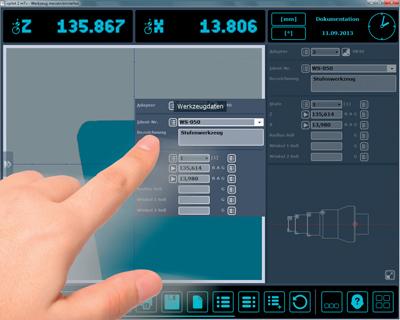 The new >>smile<< tool presetter combines decades of experience and user-oriented development with typical ZOLLER innovation, according to the company. The ZOLLER myTouch >>pilot 2 mT<< touch screen operating technology is easy, self-explanatory, saves on training expenses and simply makes work that much more convenient.
The tool presetter offers everything needed for professional tool presetting and measuring of cutting tools. The functional design together with the new table system, reportedly makes working with the machine a pleasure, as it leaves nothing to be desired in terms of ergonomics or user technology. Being robust and workshop-oriented, it can be placed directly next to the machine.
Power-operated tool clamping is available as an option. Especially with regard to HSK, this is a requirement for high changing accuracy at optimal operating comfort. Manual tool clamping is always influenced by operator's skill — now power-operated tool clamping at the push of a button provides micro-accurate changing options.
Depending on individual requirements, the presetter is available with different operating technologies, such as: >>pilot 2.0<< for the basic functions of measuring and inspection, the new >>pilot 2 mT<< with touch-screen operating technology and freely configurable user interface. >>pilot 3.0<< comprehensive image processing technology is available for greater demands and flexibility.
With the intuitive operation and touch screen operating technology of the >>pilot 2 mT<<, ZOLLER has developed user-friendly tool presetter and measuring machines. This technology is self-explanatory, easy to learn and therefore not only saves training expenditure, but also makes work more comfortable. The user-specific view of the display dialog on the main monitor allows respective users to define their priorities on the interface. Information can be highlighted or backdropped depending on the application without the remaining information disappearing out of sight.
ZOLLER >>pilot 2 mT<< focuses on the main functions which are important for the presetting and measuring of tools. The automatic recognition of cutting edge shapes and the measuring range of over 100 different cutting edge shapes, functions such as adapter management, cutting edge inspection or the navigation system >>compass<< ensure accurate measuring results at simple operation.