January 20, 2022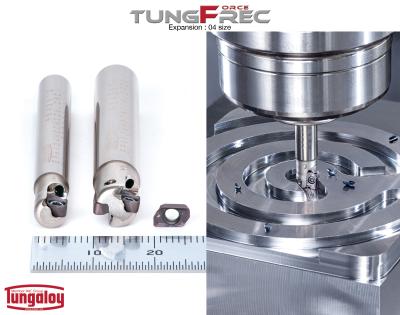 Tungaloy has announced the expansion of TungForce-Rec. The highly productive indexable square shoulder milling cutter series with high insert density now includes 6 mm (.236″) diameter cutter bodies, which is the smallest indexable shoulder mill available in the market, as well as size-04 inserts that are designed for axial cutting depths of up to 4 mm (.157″).
Tool rigidity is a critical factor for small diameter tools to sustain surface quality and process security during machining. Featuring the unique V bottom design of TungForce-Rec inserts in a compact form, the new size-04 inserts enable the cutter body to have a large core diameter and ample insert support, providing high tool rigidity and stability contrary to the small diameter.
The small size-04 inserts also allow TungForce-Rec04 to have a higher teeth density than conventional shoulder cutters of the same size, boasting two teeth for an 8 mm diameter cutter and three for a 10 mm. This allows TungForce-Rec04 to run higher feed speed than competitors when being fed at the same rate per tooth, enabling increased productivity.
An innovative insert design provides the flank face with an obtuse clearance angle for enhanced cutting edge strength and sharpness. Two insert grades are available: AH3225 is the first choice for steel and AH120 is suited for cast iron. Both provides high reliability and long tool life for extremely high shoulder milling productivity. 16 new inserts and cutter bodies are introduced in this expansion.
Additional Products from Tungaloy America Inc.