March 13, 2013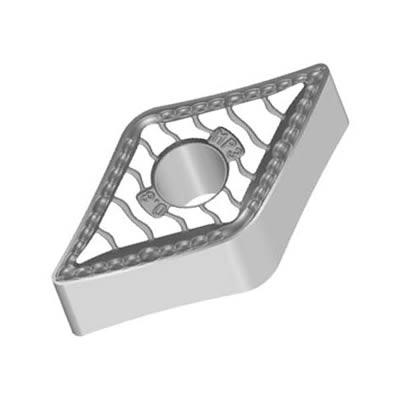 Walter USA LLC has introduced the new TigerÌ¢è ‰ã¢tec Silver Turning for steel turning applications. Consisting of three new grades and four new geometries, this product line can bring longer tool life, faster cycle times and process reliability to a wide array of applications. The TigerÌ¢è ‰ã¢tec Silver Turning can handle a variety of materials including unalloyed and alloy steel, cast steel, stainless ferritic and martensitic steel, as well as ductile cast iron.
Key to this success is the proven Tiger-tec Silver CVD coating. When combined with the newly developed insert geometries and universal chipbreakers, it can increase steel turning productivity up to 75 percent. The substrate for these indexable inserts is a new, micro-structured aluminium oxide. Thanks to its specially oriented crystalline structure, it can also raise tool life in the event of crater wear by 50 percent, which significantly reduces machining time.
In addition, an optimized cutting edge preparation process called Microedge Technology reduces cracks, micro-chipping and breakage, boosting process reliability in high volume production. Microedge Technology can also increase tool life by 30 percent by reducing flank face wear and plastic deformation of the insert. Process reliability is heightened when making interrupted cuts as well, thanks to optimum seating of the new inserts in the toolholder. The inserts&' silver flank faces also serve as an indicator layer for easy wear detection.
The new generation of indexable inserts for steel turning consists of three grades: WPP10S (ISO P10), WPP20S (ISO P20) and WPP30S (ISO P30). The WPP10S grade (ISO P10) offers the highest temperature resistance and hardness and provides excellent wear resistance and is suitable for applications ranging from continuous cutting up to slightly interrupted cuts. The WPP20S (ISO P20) is a universal grade for applications ranging from roughing to finishing. The WPP30S (ISO P30) grade was developed for tough cutting conditions.
Alongside these three grades, four previously introduced geometries have been developed in parallel within the TigerÌ¢è ‰ã¢tec Silver Turning family: FP5, MP3, MP5 and RP5.