December 30, 2020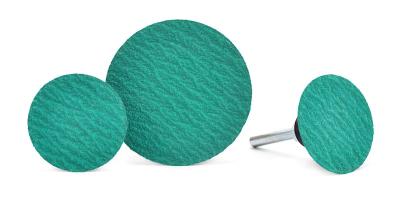 Superior Abrasives, LLC introduces SHUR-KUT® Zirconia Grinding Aid Quick Change Discs feature long lasting, durable grains and sharp cutting action for extended stock removal with low heat generation. This cooler cut reduces friction and premature breakdown of grains and backing, for longer disc life. A hybrid grain exposes a fresh cutting edge during use, for aggressive grinding on stainless steel and exotic alloys, as well as ferrous and non-ferrous materials. SHUR-KUT® Zirconia Grinding Aid Quick Change Discs are ideal for general purpose grinding and stock removal, deburring or parting line removal on cast parts, spot weld removal and blending, mold and cavity grinding and refurbishing, grinding and preparing hot castings, and more.
They are available for type S or Type R, in 1 ½", 2" and 3" diameters for use with right angle die grinders. Grits available from 36 to 120, with optimal speeds of 7,000 to 13,000 RPM, and maximum speeds from 20,000 to 30,000 RPM.
In addition to Zirconia, SHUR-KUT® Quick Change Discs are also available with Ceramic and Aluminum Oxide grinding aids to suit a wide variety of applications. Regardless of material, the addition of grinding aids significantly reduces heat for extended disc life.
With a smaller diameter, quick change discs provide ease of use on intricate parts and excellent control when shaping or blending surface portions, especially on flat surfaces. Moderate flexibility of quick change discs and their holders allows contouring and access to inner corners. These unique quick change functionality reduces changeover downtime and eases transitions between grit, material, or even abrasive type where multi-step processes are required.