May 13, 2016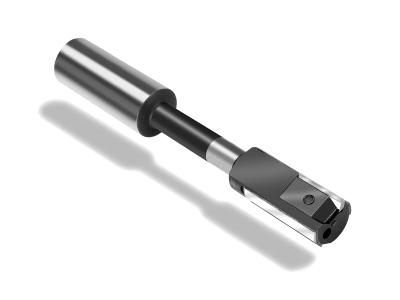 Using the proven and time-tested Shefcut reamer design, Cogsdill now adds a new twist. Shefcut precision reamers and fine boring tools have always been designed to produce accurately sized, extremely straight and round bores, with fine surface finishes, according to the company.
While easy to set, some customers have requested the benefits of the standard design but with easy or no
adjustment. Shefcut nonadjustable reamers are designed for a specific bore diameter with no setting of the cutting blade required. The design utilizes a replaceable precision ground carbide cutting blade with one cutting edge. Shefcut nonadjustable reamers are for applications where the bore tolerance is +/-.0005" (0.0127mm) or greater.
Related Glossary Terms
boring


boring

Enlarging a hole that already has been drilled or cored. Generally, it is an operation of truing the previously drilled hole with a single-point, lathe-type tool. Boring is essentially internal turning, in that usually a single-point cutting tool forms the internal shape. Some tools are available with two cutting edges to balance cutting forces.

reamer


reamer

Rotating cutting tool used to enlarge a drilled hole to size. Normally removes only a small amount of stock. The workpiece supports the multiple-edge cutting tool. Also for contouring an existing hole.

tolerance


tolerance

Minimum and maximum amount a workpiece dimension is allowed to vary from a set standard and still be acceptable.