February 07,2020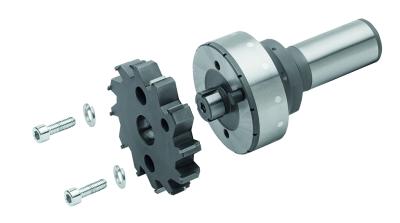 Monaghan Tooling Group introduces their easily assembled Top Speed Ring, a reamer that allows up to 70% higher feed rates than traditional cutting rings. These modular Top Speed Rings require no setting, so they are ready to use right out of the box.
They have a diameter range from 50.6 mm to 225 mm (1.9921" to 8.8583"). Four extra teeth compared to expandable rings allow for faster cutting with better surface finishes and roundness. Solid, straight or left-hand fluted designs ensure stoutness throughout its long service life. Different cutting materials and coatings are available to ream a wide variety of part materials, special geometries upon request.
Holders come with internal coolant as standard. The Top Speed Ring holders are made with either cylindrical shanks or module connections for runout compensation. The Top Speed Ring can be repaired/retipped, and achieve the same tool life as new reamers, making them efficient and cost effective.
They are ideal for high-speed reaming applications, long production runs, large-hole reaming and whenever precise, repeatable reaming is required.
Related Glossary Terms
coolant


coolant

Fluid that reduces temperature buildup at the tool/workpiece interface during machining. Normally takes the form of a liquid such as soluble or chemical mixtures (semisynthetic, synthetic) but can be pressurized air or other gas. Because of water's ability to absorb great quantities of heat, it is widely used as a coolant and vehicle for various cutting compounds, with the water-to-compound ratio varying with the machining task. See cutting fluid; semisynthetic cutting fluid; soluble-oil cutting fluid; synthetic cutting fluid.

feed


feed

Rate of change of position of the tool as a whole, relative to the workpiece while cutting.

reamer


reamer

Rotating cutting tool used to enlarge a drilled hole to size. Normally removes only a small amount of stock. The workpiece supports the multiple-edge cutting tool. Also for contouring an existing hole.