September 01, 2015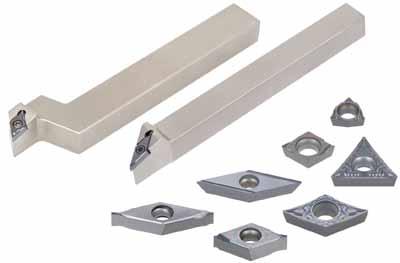 Tungaloy Corp. has introduced SH725, the new PVD grade for turning on Swiss-style lathes, and an expansion of toolholders for the DoMiniTurn external line.
When machining small parts on a Swiss lathe, an insert with a sharp cutting edge and low cutting force is essential. SH725 meets those requirements. Tungaloy developed this new coating technology to increase adhesion strength between the coated layer and the substrate, providing not only hardness but also sharpness on the cutting edge. As a result, SH725 features high wear resistance, a sharp cutting edge and improved chipping resistance.
In addition, toolholders have been expanded for the DoMiniTurn external line. This series features double-sided inserts with low cutting force, equivalent to positive inserts'. The expansion includes external toolholders for V style inserts (VXGU09...) suitable for undercutting and profiling; Neck-down type toolholders that prevent chips from jamming in the bushing during machining, allowing an easier finishing process; 20x20mm square shank toolholders applicable for automatic turret lathes.
The new addition of SH725 and the expansion of toolholders for DoMiniTurn external line help customers drastically reduce tooling cost and increase productivity for a range of applications on most types of Swiss lathes, according to the company.
Additional Products from Tungaloy America Inc.