September 19,2018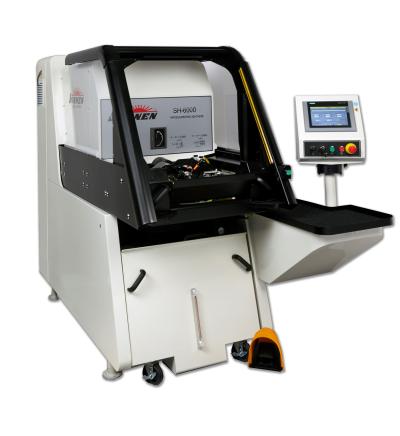 Sunnen's SH-6000 KROSSGRINDING machines combine honing and ID grinding technology into a unique process that delivers higher precision roundness, straightness, bore size and finish than either process, and with tighter tolerances. The SH-6000 yields consistent and accurate bore size control tolerances to 0.00025mm (0.000010") by utilizing diamond-plated or metal-bonded abrasive tooling with multi-stroking technology for maximum productivity and performance.
"The SH-6000 is the result of a 4-year development process based on improving Sunnen's highly successful, prior generation CGM and KGM series bore sizing machines," said Phil Hanna, product manager, Sunnen. "It is engineered for jobs requiring ultra-accurate size control, but we also improved operator productivity with a focus on easy setup and operation, as well as better reliability and simple maintenance."
Designed to allow inexperienced operators to run the machine efficiently and safely, the SH-6000 comes standard with a joystick for improved servo linear feed system, screen selectable inch/metric and multiple language options. The intuitive Siemens PLC interface with a large 225mm (9") touch screen stores more than 1000 setups, which are easily saved and retrieved.
Standard state-of-the-art safety system includes interlocked sliding canopy-style guard, light curtain and separate safety PLC with safe limited set-up speed limits.
An improved runout-adjustable spindle with direct CGT tooling connection makes it well suited for medium-to-high volume production operations. The SH-6000 is also compatible with Sunnen CRT, MMT, SRT and TC tooling series.
A robust 25mm Bosch Rexroth servo controlled ball screw stroker assures precise positioning and consistent performance and wide stroker carriage accepts all standard fixtures. Custom fixturing plates can be ordered.
The generous ergonomic work area comes standard with a rear-mounted, large-capacity electrical enclosure, but can be ordered on the right or left side to easily adapt to floor space limitations. The easy-to-maintain standard coolant system has a 208L (55 gallon) capacity and is equipped with a PF filter cartridge, magnetic separator, quick disconnect lines and a level gage.
Both high-speed and high-torque models are available.